Paul Songer
Our Founder
WW II Veteran. Journeyman bricklayer. Integrated steel innovator. Industrial contracting visionary. Passionate family man. The heart and soul of Songer Services.
A Real-life Hardworking American Success Story.
The proud-yet-humble, devout patriarch of an expansive family in Washington, PA, Paul Songer defined his entire life on his own terms through hard work and singular dedication to doing the best job possible, finding the best people available and creating a persistent culture of quiet, determined excellence and customer-driven service that remains the hallmark of the Songer Services organization.
Take a moment to learn more about the remarkable life of our company founder and see how his unique path to success laid the foundation for the company we know today. Led by the dynamic vision of longtime friend and professional associate, Chairman Joe Meneskie, Songer Services has evolved beyond even what Paul ever imagined—though at the heart of it all, nothing has changed.
Great people continue to make Songer greater.
A LEGACY FORGED IN THE HEARTH OF POSTWAR AMERICA. 
After leaving school at the age of 16 to enlist in the Navy during World War II (yes, age 16), Paul Songer served his country in the Far East and was honorably discharged before his 18th birthday, returning home to follow in his father's footsteps as a journeyman bricklayer for Andco and International Chimney.
He was a barnstorming bricklayer who learned and studied the post-war rebuild of the American steel industry from the ground up—connecting with the most talented craftspeople, foremen and supervisors from coast to coast in a country healing from war. He rose quickly through the industrial ranks to become a foreman, general foreman, project manager and general superintendent. 
In the process, Paul Songer became one of our nation's foremost specialists in planning, engineering, construction, maintenance and repair for blast furnaces, coke ovens, and boiler and pressure vessels.
"It is my commitment to you to provide quality services at a fair price. Songer will make every effort to develop long-term relationships with our clients based on trust, quality workmanship, and safe work performance. This is my pledge to you."
- Paul
CORPORATE SUCCESS LEADS TO Paul's MOST POWERFUL LEGACY: PEOPLE
Throughout five decades, Paul drew on his experience with craft talent, union halls and supervisors nationwide to create multiple successful companies: Furnco Construction Company, Serstel Corporation, and Songer Construction—a company acquired by Trafalgar House that would ultimately become Davy Songer.
In 2003 while in his 70's, Paul formed Songer Steel Services, an integrated steel maintenance and repair company known throughout the steel industry. True to form, Paul sought out the talents of the best people available—innovators and leaders he knew and trusted to meet the demands of a new century.
Chairman Joe Meneskie was at Paul's side through nearly all of his previous evolutions; a working relationship spanning thousands of jobs and four decades of hands-on experience that ultimately motivated Joe to grow the company beyond its already noteworthy roots.
TODAY'S SONGER WOULD MAKE PAUL PROUD.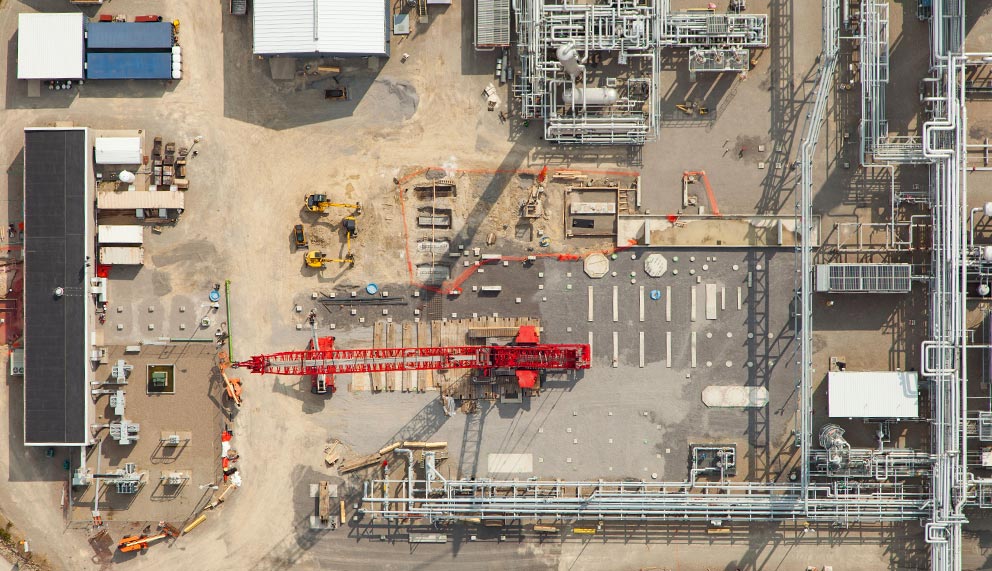 Today's Songer is a firm that has since evolved into the heavy industrial contracting company we are today—with start-to-finish capabilities in metals, oil, gas, chemical and civil construction.
This evolution was made possible by people of vision and integrity hand-picked by Paul himself to lead the company well into the 21st Century—many of whom have worked for—and with—Paul for decades.    
Not just our Chairman—but so many of our current leaders including President and CEO Gregg Preteroti, Executive Vice President/Chief Operations Officer Mike Armold, General Manager of Engineering Lauren Culbertson and so many more.  
Learn more about Songer's current leadership here.
Paul J. Songer retired from Songer Services in 2018, and passed away on May 20, 2021.
ABOUT THEIR COMPANY'S NAMESAKE
"Paul was a guiding force in my life; a father figure and mentor and friend I first connected with in the 1970's after my service in the Army," says retired Songer Services Chairman of the Board Joe Meneskie—a man associated with Paul since the 1970's. "His work ethic, knowledge and integrity was equally matched by his good humor, faith and grace. Paul's powerful example has touched every aspect of my life."
Songer Services President and CEO Gregg Preteroti believes he is living proof of The Songer Way. "I first met Paul in 2002 after I'd left teaching in search of doing something substantial – I wanted to build great things. The opportunity to literally work from the ground up in Paul's company under his quiet and steady leadership molded me into the person and the leader I am today."
"As a bricklayer by trade, I worked with Joe and Paul for years before actually joining them as an employee in 2007," says Songer Services Chief Operating Officer Mike Armold. "I am an example of what can happen to anyone who comes into this company with a little talent and a lot of Paul Songer's can-do, no-nonsense work ethic and drive."
TODAY'S SONGER IS NO DIFFERENT THAN YESTERDAY. JUST BIGGER.