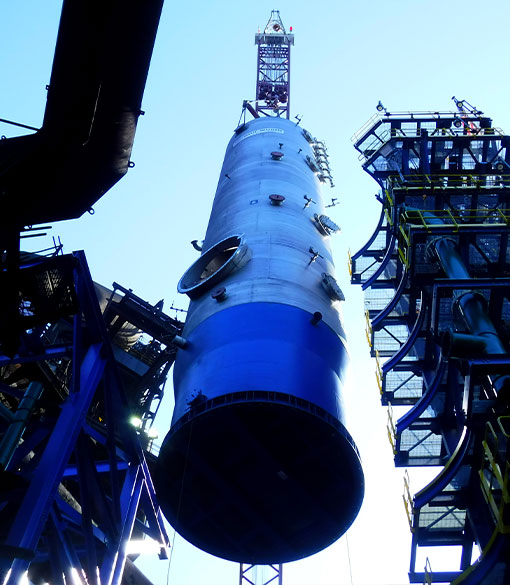 Experienced Industrial Rigging and Cranes for Heavy Lifts & Moves.
Smart, Safe Heavy Lifts And Moves.
Our partnerships with leading heavy industrial crane and rigging contractors began with the hazardous heavy demands of blast furnaces, coke ovens and pressure vessels. Our experience, hands-on project management style and on-site engineering expertise pays off when executing complex heavy lifts in active jobsite and greenfield projects for oil, gas, chemical and heavy industrial markets.
What We Bring to the Job:
Preplanning, equipment bidding, selection and scheduling
Budgeting and scope/timeline planning
Craft support and management
Site staging, footing, shoring and planning
Jacking, moving, rolling, hoists and lifts
Supervised Lifts Include Songer:
Engineering
Union crafts
On-site safety division
Project management oversight
Go/No Go Authority Across Personnel.
Songer can capably budget, plan, stage, man and complete challenging heavy lifts, often in the tightest of spaces within operational facilities. We'll minimize downtime while maximizing worker safety—in fact, each of our supervising authorities carries go/no go authority.
Our heavy lift contractors are extensions of the Songer team, and as a result, work in lockstep with the Songer Way across our heavy lift environments, which assures above all else your next lift will be conducted, on time and on budget with job safety at a premium.